BIG CROWDS. BIG SUCCESS.
Thousands of homeowners converged on the Cobb Galleria Centre for three days of shopping at the Spring 2019 Atlanta Home Show. With ideas in mind and money to spend, visitors eagerly walked the show to gain inspiration and meet with 315 exhibitors and
experts to discuss their projects. Here's a recap of the exciting marketplace these buyers experienced.
CLICK HERE FOR THE 2019 POST SHOW REPORT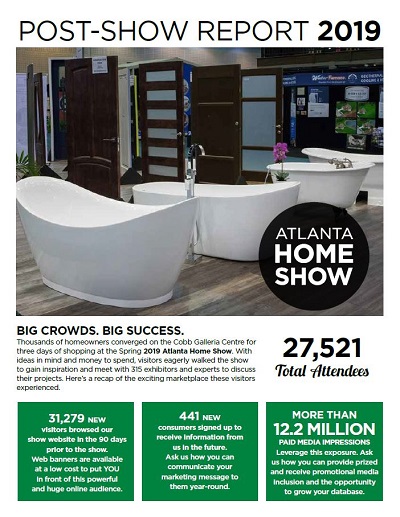 Contact us today!
Mark Levine, Show Manager
MarkL@mpeshows.com
Direct: 770.776.2616
Toll Free: 1.800.395.1350 Ext. 168

Kim Huggins, Exhibit Sales Consultant
Alpha: #, A-I
KimH@mpeshows.com
Direct: 770.776.2617
Toll Free: 1.800.395.1350 Ext. 169

Veronica McGlothlin, Exhibit Sales Consultant
Alpha: L-Z
VeronicaM@mpeshows.com
Direct: 770.776.2618
Toll Free: 800.395.1350 Ext. 170
Get a Booth Quote

Testimonials
The team is very helpful, and we loved working with them.

Malcom White
MAGNUM GUTTERS & METAL ROOFING

Our decision was very late, 1 day before the show, and the team was a great help in getting everything arranged for us to participate.

George Willison
WYMANS BEST

The Marketplace Events team continues to not only meet expectations, but always exceed them! I wish all home show producers could follow the professional, yet personal examples they deliver.

Wendy Skwirsk
CHAMPION WINDOW

We have spent thousands of dollars on event marketing with various different companies and Marketplace Events is hands down the best. We get the largest return-on-investment with their shows. I would highly recommend them to any business—from a small start-up to a large corporation. The show team is top-notch!

Phil and Stephon
THE HOME DOCTOR

Everyone with Marketplace Events is professional and very accommodating. It was a very positive experience and we will be exhibiting again.

Shannon Scott
ZIPPY SHELL

Marketplace Events is a great company with which to work. The show staff is helpful and they care as much as we do about putting on the best show possible. They're the kind of company you feel confident doing business with.

Donna Johnson
BATH FITTER

Thank you Marketplace Events for adding another quality home show to our market! The Show delivered quality leads and sales that helped us set a monthly sales record for our company! You do a great job getting the message out to homeowners with the right mix of advertising and marketing to deliver crowds and quality contacts! See you next year!

Paul Despenas
MIDWEST CONSTRUCTION & SUPPLY

Marketplace Events always does an excellent job preparing us for the show. They genuinely care about how well we do, offer advice and suggestions and always follow-up after the show to see how we did.

Pete Borbely
LUXURY WINDOW FILMS

Marketplace Events does a great job of getting people to the shows! They are much more effective than other promoters.

Jackie Miller
JR ASSOCIATES

We were pleased with our sales. We enjoy being part of the show.

Ann Edwards
BAKER BUFFALO CREEK VINEYARD AND WINERY

What an amazing show! Marketplace Events works hard to ensure a great customer experience!

Jonathan Land
LEAF FILTER NORTH OF ALABAMA

I like these shows and the exposure I receive by being in them.

Jeff Botheroyd
GARAGE EXPRESSIONS

Marketplace Events is the most professional & best show provider around!

Jason Stanley
FLOORMAX
Search the Exhibitor List
Exhibitor List